Bespoke Design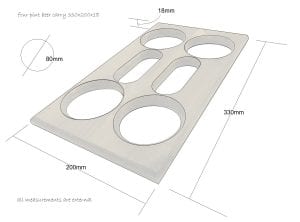 Working Hand in Hand
Our clients have come to appreciate and rely on the quality workmanship and added value they receive when they engage us for bespoke design.
We, of course, can work to very defined product requirements however we really come into our strength when clients are unsure of exactly what they want. At this point we can step in and help. We can guide them through from developing the concept to the finished product.
This is just one of the reasons our clients return to us time and again.
Branding
Endless Possibilities
Imagine being able to create your own wooden products and have them branded for you. From CNC & laser engraving to stencilling and colour matching you really are only limited by imagination. There really are endless possibilities and opportunities to create a unique branded product.